Ft. Bend Aggie 2018 Graduates Honored at May 2018 Celebration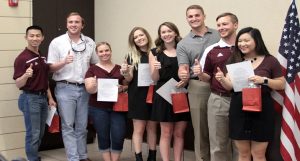 A total of 25 Ft. Bend Aggie students were honored for their 2018 graduation with traditional Aggie ring crest paperweights. Congratulations!
The Fort Bend County Aggie Moms' Club honored graduating seniors Jeremy Beaty, Ryan Brown, Brian Buckle, Katherine Cornell, Amy Dodson, Emma Gaas, Maisie Harries, Collin Haun, Jacqueline Hickl, Emily Hughes, Colin Kirchof, Grant Lincecum, Lauren Teresa Holladay, Macey Mulcahy, Zach Ransome, Michael Sallean, Joshua Samuel, Patrick Seiler, Mason Smith, Mallory Smith, Kaitlyn Trei, Allison Voehringer, Michael Wang, Megan Whitworth and Jennifer Wu.