The Ft. Bend Aggie Moms' Club raises funds to provide scholarships to deserving Ft. Bend students attending Texas A&M University – College Station, Galveston or Blinn TEAM. Applicants must be enrolled in a minimum of 12 credit hours at the time of the application and be classified as a Sophomore, Junior or Senior student in good standing for the fall semester following the award.
PURPOSE 
The Fort Bend County A&M University Mothers' Club Scholarship Program seeks to recognize and reward Texas A&M University students who:
• are proficient in academics.
• are involved in purposeful activities outside the classroom with an emphasis on campus       sponsored organizations, leadership, and service.
• demonstrate a commitment to help fund their own college education.
2019 – 2020 Scholarship Documents
Ft Bend AggieScholarship Requirements 2019-20
Ft. Bend Aggie Moms Club Scholarship Application 
Patsy Armbruster/Southerland Aggie Leadership Scholarship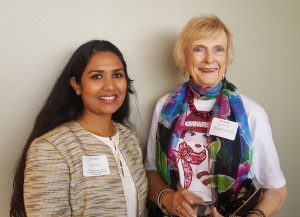 Patsy Armbruster/Southerland Aggie Leadership Scholarship recipient, Prerna Jain, doctoral candidate in Chemical Engineering, and Patsy Armbruster