The Ft. Bend Aggie Moms' Club raises funds to provide scholarships to deserving Ft. Bend students attending Texas A&M University – College Station, Galveston, or Blinn TEAM. Applicants must be enrolled in a minimum of 12 credit hours at the time of the application and be classified as a Sophomore, Junior, or Senior student in good standing for the fall semester following the award.
PURPOSE 
The Fort Bend County A&M University Mothers' Club Scholarship Program seeks to recognize and reward Texas A&M University students who:
• are proficient in academics.
• are involved in purposeful activities outside the classroom with an emphasis on campus sponsored organizations, leadership, and service.
• demonstrate a commitment to help fund their own college education.
2019 – 2020 Scholarship Documents
Ft Bend AggieScholarship Requirements 2019-20
Ft. Bend Aggie Moms Club Scholarship Application 
Patsy Armbruster/Southerland Aggie Leadership Scholarship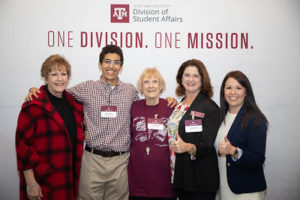 Our 2019 Patsy Armbruster/Southerland Aggie Leadership Scholarship recipient, Faris Zaibaq '21, is pictured with former Ft. Bend Aggie Mom President Sally Berlocher, scholarship namesake Patsy Armbruster, current President Carol A. Gaas '85, and Texas A&M Foundation Director of Development Megan Pulliam '09.