The Ft. Bend Aggie Moms' Club raises funds to provide scholarships to deserving Ft. Bend students attending Texas A&M University – College Station, Galveston or Blinn TEAM. Applicants must be enrolled in a minimum of 12 credit hours at the time of the application and be classified as a Sophomore, Junior or Senior student in good standing for the fall semester following the award.
PURPOSE 
The Fort Bend County A&M University Mothers' Club Scholarship Program seeks to recognize and reward Texas A&M University students who:
• are proficient in academics.
• are involved in purposeful activities outside the classroom with emphasis on campus sponsored organizations, leadership and service.
• demonstrate a commitment to help fund their own college education.

2017-2018 Scholarship Recipients

During their May 16, 2017, meeting, the club awarded 27 scholarships. Scholarships were awarded to Jordan Admire, Megan Bates, David Belleza, Joseph Buckler, Katherine Cornell, Dylan Crocker, Amy Dodson, Laci Enriquez, Emma Gaas, Arlene Garcia, Jacob Griffin, Jenifer Kaufman, Robert Kellogg, David Kvinta, James Laughter, Julia Lishau, Macey Mulcaey, Kevin Nquyen, Tucker Novosad, Micayia Orsak, Rebecca Parke, Charles Ransom, Jaclyn Rosenthal, Andrew Smith, Michael Wang, Megan Whitworth and Jennifer Wu.
2018 – 2019 Scholarship Documents
Scholarship Biographical Information Cover Sheet
Patsy Armbruster/Southerland Aggie Leadership Scholarship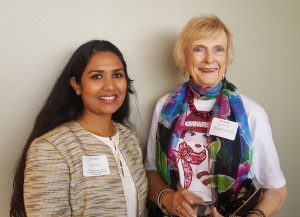 Patsy Armbruster/Southerland Aggie Leadership Scholarship recipient, Prerna Jain, doctoral candidate in Chemical Engineering, and Patsy Armbruster