We seek to support our students through scholarships and donations to campus organizations by participation of our members in fundraising events throughout the year.
Fundraisers for 2020
Pick Your Pleasure Raffle 2020
Win the vacation of your dreams!
$20 per ticket
Winner's choice of one of the following…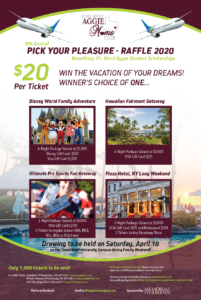 Disney World Family Adventure 2020
Hawaiian Fairmont Getaway 2020
Ultimate Pro Sports Fan Getaway 2020
Plaza Hotel New York Long Weekend 2020
The drawing will be held Saturday, April 18 in the Memorial Student Center at Texas A&M University
For more information or questions about the raffle, contact Amy Rivers, VP of Fundraising, at 832-483-9459  / amyjrivers@yahoo.com, Michelle Edwards, VP Fundraising: 281-898-1880 / medwards@tritechtx.com, or Ft. Bend Aggie Moms Club at ftbaggiemoms@gmail.com.
---
Goodie Bags
(Members Only) – Delivery of goodie bags to Aggie Mom students prior to Fall and Spring exams
---
Texas A&M Farm and Road Signs
Full-size road signs that are perfect for any Aggie. Click here for more information.
---
Boutique
Aggie-themed merchandise available at all general meetings and at Texas A&M Family Weekend in College Station (at the Memorial Student Center, Friday, April  17, 2020, from 10 a.m. to 5 p.m. and Saturday, April 18, 2020, 9 a.m. to 5 p.m.)
---
Poinsettias
Sold in early October – November for early December holiday delivery